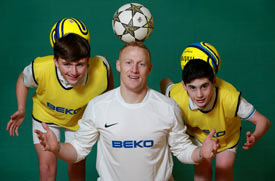 18/01/2014
Beko is delighted to be The Official Home Appliance Partner of The FA Cup for the second season running.
This year, we want you to show off your football skills by taking part in the Beko Keepy-Uppy Challenge. The competition is open to individuals, teams and schools and there are lots of sought after prizes up for grabs.
Keepy-Uppy Champion, Dan Magness, tells you more in the videos. Dan holds the current Guinness World Record for the longest ever Keepy-Uppy – an impressive 26 hours! We don't need you to beat that, but would love to see your skills.
To enter, simply choose the relevant category and send us a link to a video of you demonstrating your skills. Videos will be accepted as links from Youtube, Instagram, Vimeo, Vine, Facebook or your own personal blog. Please capture the address bar of the video you want to send us and include in the entry form.
For every entry we receive, we'll be donating £1 to our charity partner Barnardo's.
So get your football out, your video recorder on and show us your finest skills! Closing date for entries is 21st April 2014 and winners will be contacted by the 5th May 2014.
Prizes up for grabs include FA Cup Final tickets, a Beko American Style Fridge Freezer, team kits and an exclusive training day at the home of English Football, St George's Park.
Entries will be judged by Dan Magness and one of the FA Legends.
T&Cs apply - See Terms and Conditions for details.