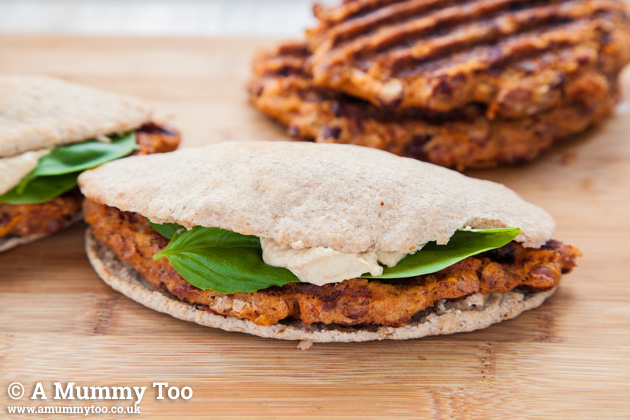 A Mummy Too
Veggie Bean Patties
Emily from A Mummy Too found the Beko American style fridge freezer to be an incredible space-saver, and loved the sleek stainless steel look. Its generous capacity makes it easier to stay organised and keep all the food she needs for her family fresh and delicious. Emily came up with a tasty and budget friendly recipe for Veggie Bean Patties that take hardly any time to put together. We love this recipe, and you can easily make them more child-friendly by using less chilli and more cheese.
Ingredients
2 x 400g cans of mixed beans (240g each when drained)
280g jar of sundried tomatoes in oil
1 large free range egg
1 rounded tsp chilli powder
100g hard cheese, finely grated (Divo Vegetarian Grated Italian Hard Cheese by Aldo Zilli is a good veggie option if you need one)
8 pitta breads
A handful of lettuce or basil leaves, as preferred
8 tbsp houmous
Instructions:
Drain the beans and rinse them well.
Drain and roughly chop the tomatoes and add to a large bowl with the beans.
Use a fork to mash the mix, leaving some beans still intact, and then stir in the egg and chilli powder.
Add the cheese and stir until evenly combined.
Divide the mixture into 4 and work into burger shapes.
Emily cooked her patties on a Tefal Optigrill because it was too wet outside, but you could cook these in a griddle pan on the BBQ - just keep cooking until they are firm and a little crispy.
Serve in a warmed pita bread with fresh salad leaves and houmous.