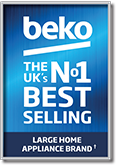 Integrated Washing Machines

Our range of integrated washing machines is designed to save energy, water, and time while handling your laundry with care. Offering capacities ranging from a small 6.5kg to a medium 8kg, as well as high energy ratings, there's a Beko integrated washing which can fit seamlessly into any home. All the new models in our integrated range come with the Daily Quick programme, that can wash a full load of laundry in just 28* minutes.

Frequently Asked Questions: Washing Machines










Beko Integrated Washing Machines Reviews
We welcome customer reviews for all our integrated washing machines. We work alongside review collection platform Reevoo to gather your honest opinions and share genuine independent reviews of our products.
†Source Euromonitor International Limited; Consumer Appliances 2020 ed, as per major appliances definition, retail volume sales in units, 2019 data