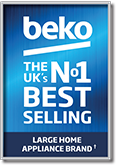 American Style Fridge Freezers
Helpful features in our American Style Fridge Freezers
Protect and preserve the vitamins in your fruit and veg
Our unique, HarvestFresh™ technology preserves immunity-boosting vitamins A and C in your fruit and veg for longer so you can enjoy nutritious meals and a healthier lifestyle. The innovative three colour light technology in the crisper drawer mimics the natural 24 hour cycle of the sun, so the vitamins in your fruit and vegetables are preserved for an additional 5 days.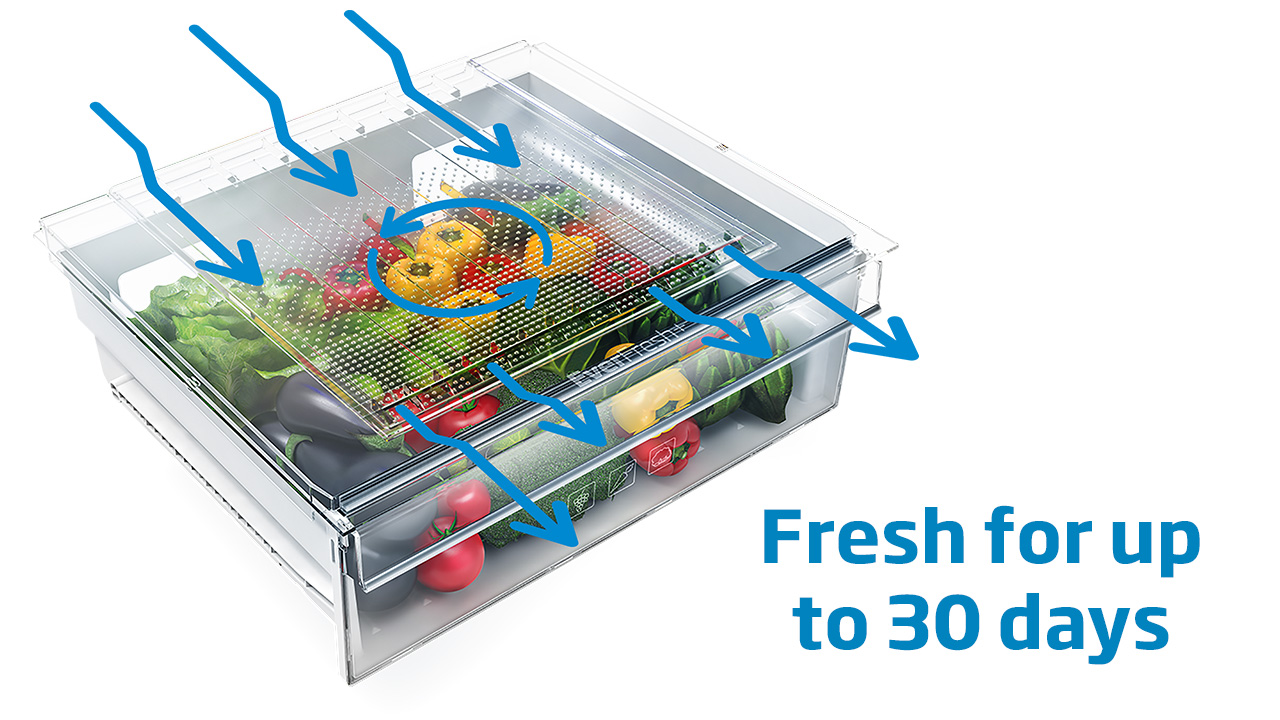 Keep your fruit and vegetables fresh in your American Fridge Freezer for up to 30 days
We understand how frustrating it is to buy fresh fruit and vegetables, only for them to go out of date in a few short days. That's why our crisper drawers with EverFresh+® technology are specially designed to control air and humidity and delay the ripening process, keeping your fruit and veg fresh for up to 30 days, helping you to reduce the amount of food you throw away.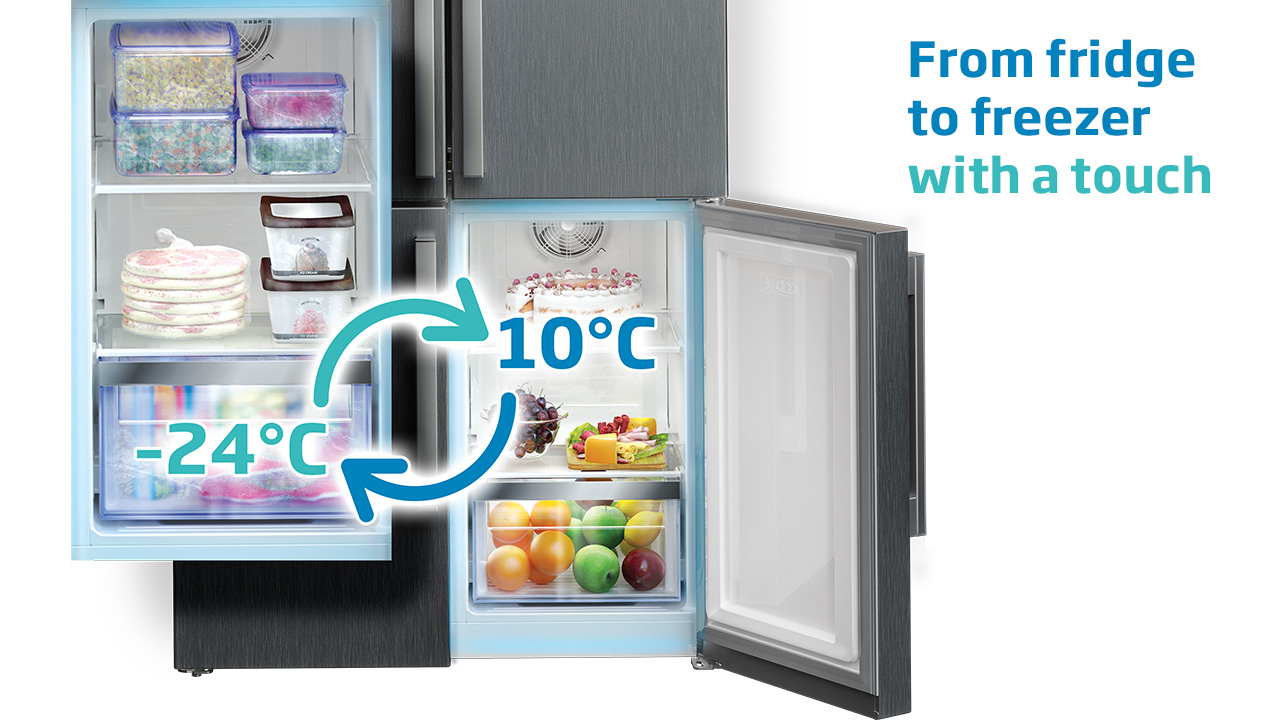 Seamlessly change the temperature in your American Fridge Freezer
Whether you're preparing for a summer barbeque and need more fridge space or getting ready to host your first Christmas dinner and need more freezer space, the MultiZone® compartment in our American style fridge freezers can become a fridge or a freezer at the touch of a button.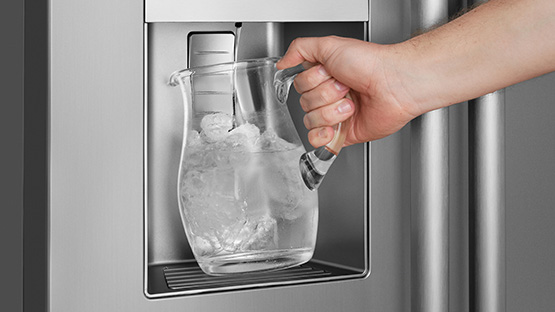 A water dispenser on your American Fridge Freezer will keep you refreshed
Enjoying the convenience of having refreshing ice and water whenever you want has never been easier, thanks to the ice and water dispensers in our American style fridge freezers. Whether you're after a convenient plumbed water dispenser or a handy non-plumbed dispenser, our range has just the model to match your needs.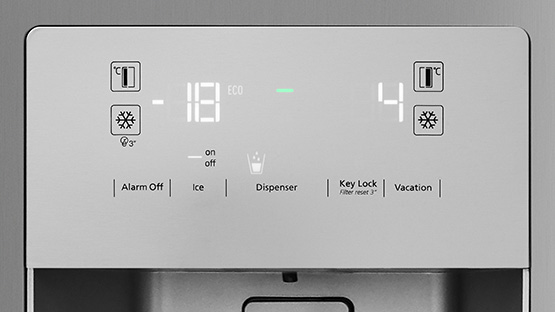 Easily control your American Fridge Freezer with its modern display
We understand how frustrating it is to have to open your fridge freezer's door each time you need to adjust a setting. That's why we've designed our range of American style fridge freezers with a modern display that lets you control everything about your fridge without needing to open the doors – from selecting Quick Cool or Fast Freeze settings, to setting your fridge freezer to use less energy while you're on holiday.












About Beko's American Style Fridge Freezer
Our American Style range includes a host of clever features to make your life much easier from built-in water dispensers to Holiday Mode technology, which makes sure your fridge freezer keeps running in the most energy efficient way when you are away for a long time. If you're staying home instead, why not choose an American fridge freezer with plumbed ice dispenser or an American fridge freezer with non-plumbed ice dispenser to keep your drinks cool all summer long.
Our Four Door American Style Fridge Freezers also come with innovative Multizone technology, which allows you to adjust the temperature in one compartment at the touch of a button, allowing you to use it as either a fridge or a freezer depending on your need.
Browse our four and double door fridge freezer models to see what fits with your style of kitchen. If you are looking for a model to fit a specific space, you may wish to consider our small and narrow American fridge freezers.
Explore the Beko American Style Fridge Freezer range and find out more.
Beko American Style Fridge Freezers Reviews
We welcome customer reviews for all our american style fridge freezers. We work alongside review collection platform Reevoo to gather your honest opinions and share genuine independent reviews of our products.
†Source Euromonitor International Limited; Consumer Appliances 2020 ed, as per major appliances definition, retail volume sales in units, 2019 data