It has come to our attention that particular Beko, Leisure and Flavel cookers with a separate oven and grill can, if they are not operated in accordance with the user instructions, pose a serious risk to your health.
If your cooker has been converted to run on LPG (bottled gas), please click here.
These appliances are designed for cooking purposes only and must NOT be used as a space heater, or for any other purpose.
CHECK THE LIST BELOW TO SEE IF YOU OWN ONE OF THE AFFECTED COOKERS.
Click on the model number to download an instruction booklet if required.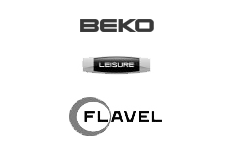 ---
---
WHAT YOU NEED TO DO IF YOU OWN ONE OF THESE COOKERS
1. FOLLOW THE PRODUCT INSTRUCTION MANUAL AND DO NOT OPERATE THE GRILL WITH THE GRILL DOOR CLOSED
When the grill burner is on, the grill door must always be in the open position. If the grill is operated with the grill door closed, the air supply to the grill burner is restricted which can cause extremely dangerous levels of carbon monoxide to be produced which can pose a very serious risk to health.

2. ARRANGE FOR A FREE SAFETY INSPECTION AND MODIFICATION
If you own or use any of the models shown above, please call us on:

UK Free phone 0800 917 2018
Ireland Free phone 1800 25 29 25
Our customer care centre is open from 8am to 6pm, Monday to Friday, and 9am to 5pm Saturday, Sunday and UK Public holidays.

We will then arrange to carry out a free modification to your product to remove any risk

When calling please have your full model number and serial number to hand - these can be found on the rating plate at the bottom front edge of the appliance (see below).


For further help, please view the video below
---
OTHER SAFETY INFORMATION

For information on Frost-free Fridge Freezers manufactured from 2000 to 2006 click here

For information on 6kg and 7kg condenser Tumble Dryers manufactured from May-October 2012 click here

---