Range Cooker Buying Guide
Range cookers offer the ultimate in flexibility and are perfect for making cooking for a big family easy. If you're not sure which type of range cooker would be best for you, our buying guide will help point you in the right direction.
Width
The first thing to consider before buying a new range cooker is the space you have available to you. Measure the space in between your cabinet units to give you a clear idea of the range cooker width you'll need. We measure the widths of our range cookers from side to side and in centimetres (cm). Our range offers two widths to help you find the perfect fit for your kitchen.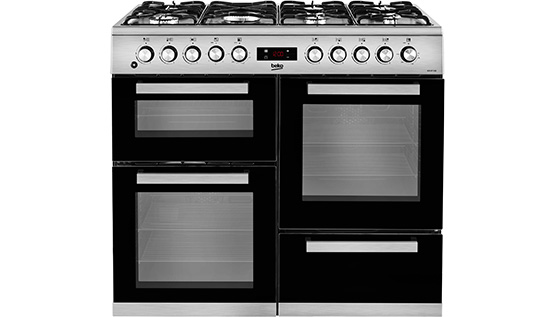 100cm
Offering the ultimate in flexibility for a busy family's everyday cooking needs, our 100cm range cookers come with two ovens, a separate grill and a handy storage space. The large oven capacities and hobs with up to seven burners help make cooking easy.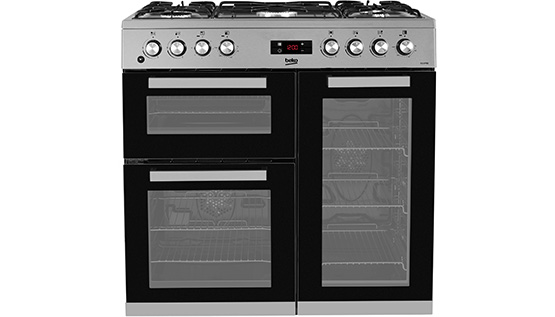 90cm
For kitchens with a slightly smaller space available in between the cabinet units, our 90cm range cookers are ideal. Coming with two ovens, a separate grill and five-burner hobs, cooking more in one go has never been easier.
Fuel Type
After you've decided on the range cooker width you'd like for your kitchen, you'll next need to think about which fuel type you'd like. If you're replacing your old range cooker for a new one, be sure to make a note of the type of fuel you have in your kitchen. If you're redesigning your kitchen on the other hand and are planning on converting to a different fuel type, our range offers dual fuel and electric models to suit your needs.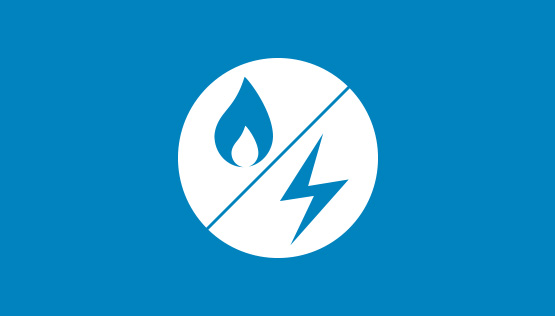 Dual Fuel
Dual fuel range cookers combine gas and electric power to offer the best results. Electric ovens offer uniform and precise cooking while a gas hob offers responsive control for an authentic cooking experience.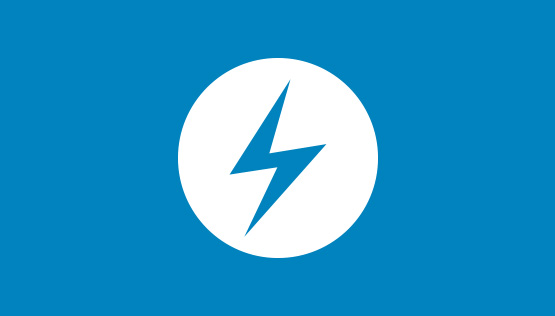 Electric
An electric range cooker is perfect for when you don't have a gas supply running through your home. Our electric range cookers come with fan ovens for quick and even heating while a ceramic or induction hob will add a modern touch to your kitchen.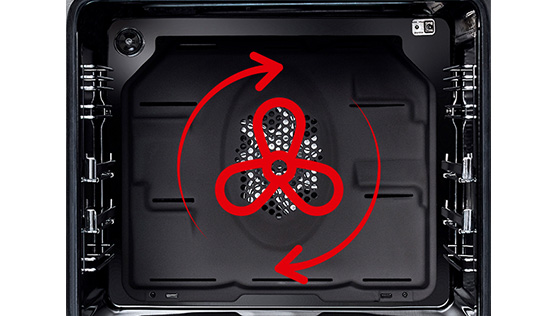 The next thing to consider before buying a new range cooker is the type of oven you'd like it to come with. Our range cookers come with fan ovens to offer quick and even cooking results. If you do a lot of batch baking or often find yourself cooking different foods at the same temperature, a fan oven is ideal. Heat is distributed evenly throughout the oven thanks to a fan (or in some cases multiple fans), being placed close to the heat source.
Hob Type
The next thing to consider before buying a range cooker, is which hob type would be best for you. Our range cookers offer three different hob types to help you choose the best one for your everyday needs.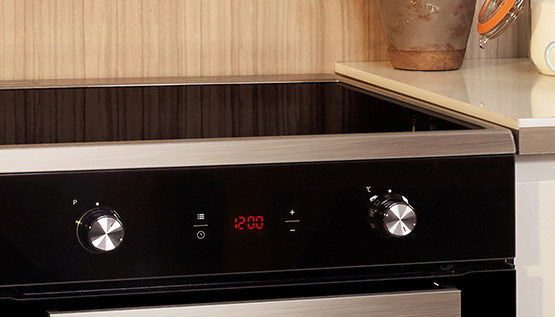 Induction Hob
If you're someone who looks for high efficiency and energy saving qualities in your kitchen appliances, then a range cooker with an induction hob would be perfect for you. The induction hob will add a modern and stylish touch to your kitchen, while saving you time and energy. You can find out more about our induction technology in the Extra Features section.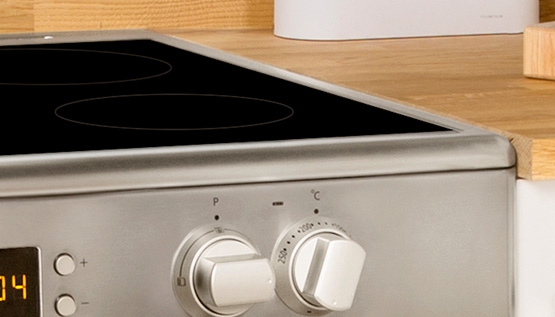 Ceramic Hob
If you're used to cooking on a gas hob but are ready for a change, a range cooker with a ceramic hob would be perfect for you. This type of hob is great for excellent cooking results and if you're after a sleek and stylish finish to be added to their kitchen. Our range cookers with a ceramic hob come with dials as well as touch-control models, making them incredibly quick and easy to use.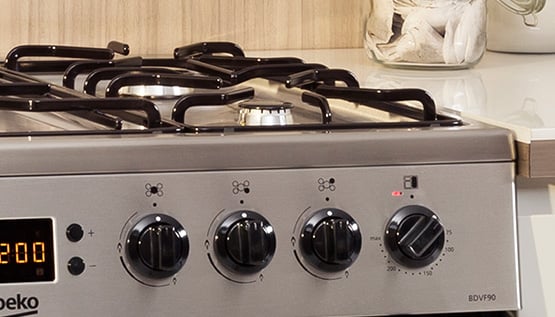 Gas Hob
For a more authentic cooking experience, our range cookers with a gas hob are ideal. The gas hobs on our range cookers offer easy-to-use dials helping you control the heat levels of the cooking zones with precision. Offering models with cast iron pan supports and High-Efficiency™ gas burners, our range cookers with a gas hob come with the features you need to help you every day.
Easy To Clean
The next factor you should consider when buying a range cooker is how easy it is to clean. We've developed a host of self-cleaning and easy-clean solutions to help you save time in the kitchen.
SimplySteam™
We understand how time consuming it is to spend hours scrubbing your oven clean. So we developed our SimplySteam™ technology. Simply set the oven to its steam cleaning mode and after just 25 minutes, all you'll need to do is wipe away the dirt.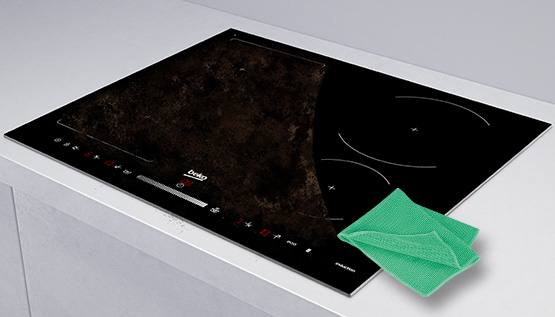 Easy to Clean Surface
We know that spillages on a hob can be difficult to clean up. So, we've added a specially designed glass to our induction and ceramic hobs which offers a flat and smooth surface, giving you the easiest of cleaning experiences.
Induction Technology
Our range cookers with an induction hob use electromagnetic waves to heat your induction friendly pan containing iron, to only heat the area of the pan which is in contact with the hob surface. By transferring heat to only the part of the cooking zone where the heat is needed, our built-in induction hobs offer quick, safe and energy efficient cooking.
High-Efficiency™ Gas Burners
Some of our cookers with a gas hob come with highly efficient burners which direct the heat at a more precise angle, allowing for more heat to be transferred to your pan. Heat is quickly and evenly distributed across the bottom of your pan to help you achieve excellent cooking results while using up less of your gas, helping you save money on your energy bills.
Now that you have all the information you need to purchase the best range cooker for you, why not start browsing our range cookers?
Or if you're planning on redesigning your kitchen, have you considered a built-in kitchen? Find out more about our built-in appliances here.
†Source Euromonitor International Limited; Consumer Appliances 2020 ed, as per major appliances definition, retail volume sales in units, 2019 data