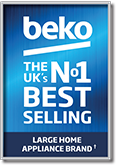 Outdoor Fridge Freezers For Garages & Outbuildings
You don't need to worry about where to place your fridge freezer with our Freezer Guard technology. Even if temperatures drop to as low as -15°C, you can rest assured the freezer compartment will always function properly to keep your frozen food frozen – perfect for when you need to place your fridge freezer in your garage or outbuilding.
We recommend you only use the freezer compartment in low ambient temperatures and not the fridge compartment.












†Source Euromonitor International Limited; Consumer Appliances 2020 ed, as per major appliances definition, retail volume sales in units, 2019 data