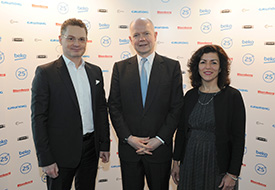 11/03/2015
This week saw us kick off our 25th birthday celebrations at Wembley Stadium. The two day silver anniversary event included a special visit from Senior British Government leader William Hague MP.
Mr Hague, British Foreign Secretary from 2010 to 2014, was our VIP guest as we marked a quarter-century of doing business in the UK with staff, partners, customers and media.
Mr Hague, one of the UK's most respected parliamentarians, said: "It is a huge pleasure to be at Beko's 25th anniversary and to see the exciting and forward-looking things the business is doing as well as the great things it has already achieved."
"Beko is a great company - it is investing in R&D to always stay ahead of the game, it is making the most of the talent of its employees, supporting local communities and helping protect the environment."
"It is a great time to be investing in Britain and I congratulate Beko on behalf of the British government."
Beko has sold more than 25 million appliances in the UK and Ireland since 1990 across our Beko, Grundig, Leisure and Blomberg brands of white goods appliances.
Mr Hague, who sits in the Cabinet as the First Secretary of State and Leader of the House of Commons, visited the Beko 'Kitchen of the Future' which highlights how we are designing technology to meet both consumer and sustainability.