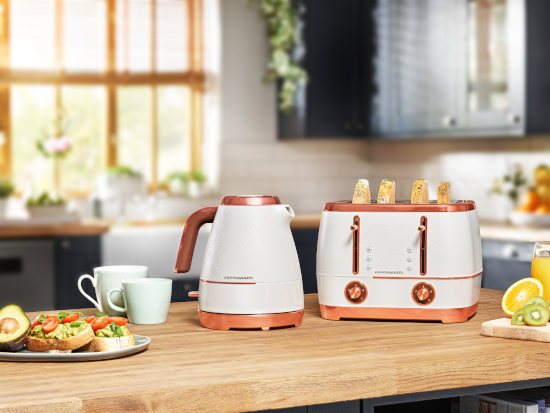 31/07/2019
Kitchen envy, it's a real thing! #kitchendesign has over three million tags on Instagram, so if you find yourself yearning to give your kitchen a refresh, then you'll love our stunning new Cosmopolis breakfast collection. Drawing inspiration from the 50s and 60s our stylish new range of kettles and toasters is packed with helpful features and is available in three different colours so you can give your countertop a mini-makeover without blowing the budget.
There are two styles of the Cosmopolis kettles to choose from; a dome or a jug shape, both have an impressive 3000W power for a fast and quick boil. With a substantial 1.7 litre capacity there's enough water for everyone's hot drinks with just one fill. Choose from white with an on-trend rose gold trim, duck egg and chrome, or black and chrome to complement any colour scheme in your kitchen. Adorned with a subtle geometric design, we have pulled out all the stops to ensure our new collection is super stylish.
Catering to any size of family, the range features both two and four slot toasters. The wide slots are perfect for chunkier sourdough loaves, bread buns and bagels, so you'll not have to resort to using another appliance such as a grill. The five-level dial offers the ultimate control when it comes to getting that perfect shade of golden brown. Both models feature defrost, cancel and re-heat options, making it ideal for busy users to enjoy breakfast without delay. It's also easy to keep clean thanks to the removable crumb tray. A handy cord storage means you can keep work surfaces tidy too.
Our new Cosmopolis breakfast collection is the latest addition to our range of small domestic appliances. See more here.