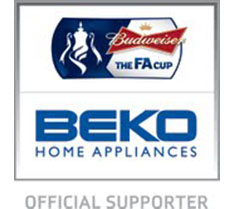 13/09/2012
Beko is to become an Official Supporter of The FA Cup, the world's most prestigious domestic cup competition.
The partnership, brokered by Sports Revolution, will run through until the end of the 2013-14 football season and grants Beko an extensive range of image rights, advertising and promotional opportunities around The FA Cup. Beko joins a number of blue-chip partners of The FA Cup, whose lead sponsor is Budweiser.

"We are delighted to have Beko on board," says Sean McAuliffe, The FA's Head of Business development. "They have an excellent pedigree in sports and football sponsorship and their popular product range appeals to football fans and their families everywhere.

"Through this partnership Beko has secured rights to a competition which will give them sustained exposure across the year – and enables them to connect with local communities throughout the country."

Ragip Balcioglu Managing Director at Beko plc. added: "We are genuinely excited to be supporting the FA Cup Final. Its heritage and reputation for being inclusive made it a hugely attractive proposition for the brand, and will provide us with a strong platform to communicate to our core target audience of families.

"Our investment in perimeter board advertising across Premiership grounds for the last four years has consistently built brand awareness, whilst the Beko Mums United Facebook activity launched in 2011 proved to be a successful component in our marketing support. We look forward to building on our existing sports sponsorship credentials through the new partnership with the FA Cup."