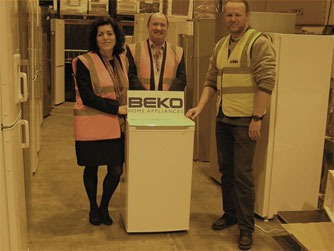 01/12/2012
Beko is helping to make sure that it's NOT going to be a cold, cold Christmas for hundreds of homeless people this festive season. Working with the charity Crisis, Beko has given 20 fridge freezers to Crisis shelters which provide temporary accommodation and feed hundreds of homeless people a warm meal over the Christmas period.
Shelter runs nine Crisis centres and provides around 21,000 meals over the eight day festive period.
Teresa Arbuckle, marketing director at Beko plc says:
"Shelter was desperately in need of new fridge freezers as theirs are old and inefficient. This charity does such amazing work in helping the homeless, especially at Christmas, which can be a particularly difficult time of year for so many people who find themselves without a home, warmth and food. Beko was delighted to be able to support the charity by making this donation."
Ian Richards, Head of Crisis at Christmas says:
"Crisis really appreciates this generous donation of fridge freezers, it will help us make sure our volunteer-run kitchens and catering services run smoothly and help hundreds of homeless people enjoy mealtimes at Crisis at Christmas."