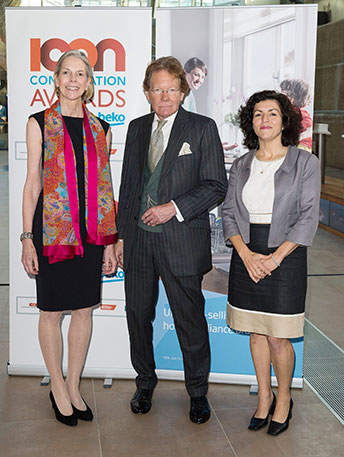 19/10/2014
All aboard The Cutty Sark for the launch of the Icon Conservation Awards 2015
The Cutty Sark proved to be an iconic location for the launch of the Icon Conservation Awards 2015 and our announcement of Beko plc as its new corporate sponsor.

Media joined architect, broadcaster and conservation enthusiast Maxwell Hutchinson to launch the new sponsorship and 2015 awards programme. With a discovered trunk of couture treasures from The House of Worth on display, conservation volunteers were on hand with stories of recent heritage and preservation projects from across the UK.
The awards celebrate and capture excellence and pioneering in the conservation of cultural and industrial heritage. Our Marketing Director, Teresa Arbuckle, explains: "As the new corporate sponsor, we want to help broaden people's interest in conservation. We want to demonstrate that whilst we all look to new and future technologies to evolve how we live and work, we should also cherish and appreciate key parts of our heritage. Working on a conservation project with a professional conservator can be a real source of joy and learning for everyone, and we hope that the new Beko Award for Conservation in the Community will incentivise conservation projects with a broader volunteer reach, helping local community projects get off the ground and ultimately benefiting more people in their daily lives. This really resonates with our company and on-going commitment to helping families and local communities".
Maxwell Hutchinson said of his involvement in the Icon Conservation Awards 2015: "Championing the conservation of cultural heritage is close to my heart and The Icon Conservation Awards Programme is the kite mark in recognising the passions and sheer excellence of the people behind conservation projects who, in turn, inspire others to contribute to conserving our extraordinary heritage."

The launch was followed by a tour of the magnificent Cutty Sark.