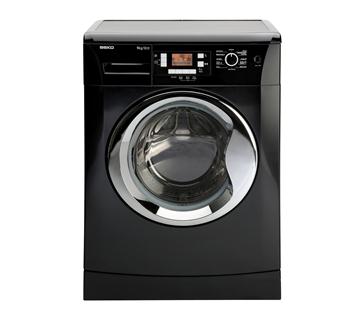 06/06/2010
Long hours and a packed schedule during the week, means that weekends are often the most popular time to tackle necessary household errands, and with only 48 hours to enjoy your weekend there are more pleasurable things to do with your time than chores.
Launching now, the new 9kg Excellence model, officially the fastest 9kg model on the market, is designed for a real person's busy life. It includes useful innovative features, as well as timesaving and energy efficient programmes that are designed to do their jobs quietly and reliably helping you to simply get on with your day.
Available in either white or high gloss black colour options, the stylish 9kg Excellence washing machine features an extra large chrome porthole door and bigger drum size making it easier to load and unload large amounts of laundry. The bigger drum size also means that you'll no longer be subjected to having to do two loads when one big one will do the job, meaning fewer laundry days a year – ultimately saving you time, energy and money.
Being environmentally friendly is an increasingly important factor when purchasing an appliance and, with this in mind, the 9kg Excellence model boasts a low water consumption of 59 litres and includes an Eco Clean 20 feature, an ecological programme that saves 70% in energy costs compared to a standard Cotton 40 programme.
The 9kg Excellence features a total of 16 main wash programmes including:
Tub Clean - which works when the washing machine is empty to clean the tub and drum, providing maximum hygiene for your machine
Daily Quick - the fastest wash programme for a full load of lightly soiled laundry, which can be cleaned at a range of temperatures, from cold to 90°C, saving over an hour compared with a normal cotton wash, making light work of that seemingly endless pile of laundry
Dark Care - which works to protect dark coloured clothes becoming faded and ensures no detergent deposits are left to linger after washing
Mixed Fabrics - which means no time is wasted separating out cottons and synthetic garments
Additional time-saving programmes for those last minute emergencies include a '14 minute' super fast short wash programme, which can handle a 9kg load at 30°C load in 14 minutes, and a 12 minute cold wash programme – ideal for reviving your clothes.
The 9kg Excellence washing machine, also features a large interactive LCD display offering you more control and flexibility because it shows the time remaining for your chosen programme and also has a programmable time delay function for up to 24 hours, ideal for those moments when you realise you have nothing clean to wear for a big night out.
With great style, functionality and performance, the 9kg Excellence washing machine is designed to integrate perfectly within your kitchen whilst fulfilling the real needs of your household.