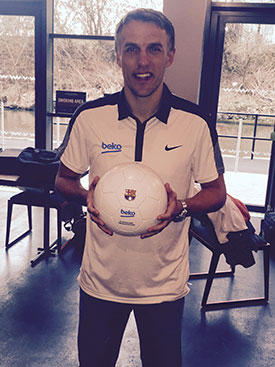 26/03/2015
With the help of former England footballer, Phil Neville, we revealed to the nation that almost half of all mums and dads go to great lengths to get their kids to support their football team.
Results from a Beko survey of over 2,000 adults in the UK found that a third of parents have dressed their child in their team's kit from birth. One in seven takes their child to every home match, while one in ten say they've even made their child sit through every football season on DVD to make sure they support their parent's favourite team.
Most surprising is that its dads and not mums that are more likely to make an extra special effort to ensure their children's kit is clean and well presented! Style on the pitch counts, with two thirds of parents go to extra lengths to ensure their child's kit is at its cleanest. 70% of dads commit to trying everything from soaking the clothes overnight to splashing out on the latest gadgets to ensure their child looks the part on the pitch. Quality appliances can make it really easy to keep kit looking sparkly clean, and Beko's new 11kg large capacity washing machine even allows parents to wash a whole team's worth of kit in just one load; saving time as well as effort.