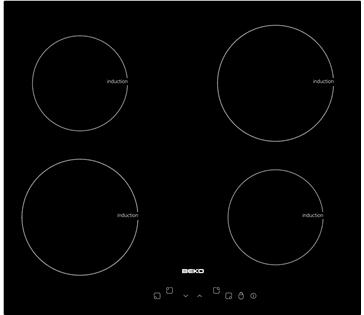 03/04/2010
Ever arrived home after a long day at work dreading the time it takes to prepare the family meal? Or had to tolerate hungry children complaining that dinner is taking too long?
Beko, has introduced the new Induction Hob-HII64401T, especially designed for speed to fit with busy modern living.
Induction hobs are more energy efficient than any other hob and therefore cost less to run. With nine cooking levels on each of the four cooking zones and instant heat adjustment, the Beko Induction Hob ensures food is cooked quickly and efficiently, saving you time and energy.
Equipped with touch controls, an on-off indicator light, time controls for each of the four zones and an end cook timer buzzer, the Beko Induction Hob is simple to use. It has an easy to clean frameless ceramic surface, designed to avoid unnecessary cleaning time that could be spent entertaining family and friends. A safer option without naked flames and equipped with a child lock, it is the perfect addition to a busy family kitchen.
Available now in stylish black ceramic, the Beko Induction Hob is 60cm wide, so not only will it fit in with your busy lifestyle, but it will slot perfectly into your modern kitchen too.
With a range of genuinely useful features and a competitive price, the Induction Hob compliments the successful Beko Built-in range. Developed to provide a stylish combination of durability, reliability and affordability, the Built-in range continues Beko's commitment to offering high quality, affordable products packed with practical functions to meet the needs of an everyday kitchen. This popular collection is on track to repeat the success of the number one Beko freestanding cooking range.