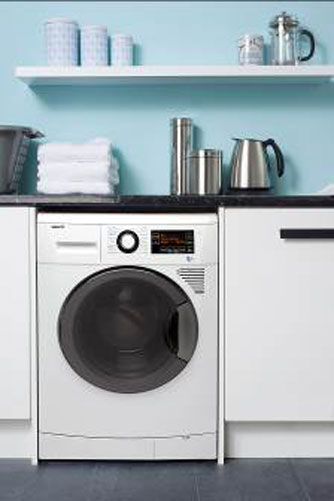 12/10/2013
The innovative drying technology in our state-of-the-art washer dryer can save you thousands of litres of water per year, compared to standard machines. This advanced design, along with an excellent energy rating, means that your laundry routine is now more affordable than ever before.
Contrary to popular belief, traditional drying cycles on a combined washer dryer can, in some cases, use almost as much water as only washing cycles. Normally, the condenser is used to remove the moisture from the hot air in the drum, transforming it into water which goes down the drain. The condenser gets hot during this process and, in standard washer dryers, is cooled using cold water from the household supply. This process is very wasteful and models using this method are a particularly poor choice for those with a water meter.
In contrast our washer dryer uses ambient cold air, drawn in through the perforated vent on the front of the machine, to cool the condenser. This is then blown out through the back of the machine, a technique that can significantly reduce water bills. Incorporating clever air cool technology, this machine can save up to 7,500 litres of water per year, the equivalent of 95 bath tubs*.
If that isn't enough, this savvy appliance can also wash a 1kg load, equivalent to five shirts, in just 55 minutes, so you can now say goodbye to last minute dirty laundry clothes disasters. With a super speedy washing cycle, the large capacity WDA91440W cuts the time it takes to do everyday household chores, cleaning a full 9kg load in less than 39 minutes**. It also has the capability to wash and dry a 6kg load all in one cycle, meaning you can move on with other jobs without having to be on hand to start the drying cycle.
It is equipped with an anti-allergy wash and dry cycle for small loads, endorsed by Allergy UK, which helps to reduce the amount of allergens, helping households with allergy sufferers or conditions such as asthma.
View the view our washer dryers here
* Based on a comparison with a model with same capacity and with standard technology and considering the average yearly water consumption for 208 washing cycles at full capacity (9kg) and 156 drying cycles at full capacity (6kg). as well as an average bath tub capacity of 80 litres.

** Washing time is partially dependent on water pressure, water temperature and load stability.