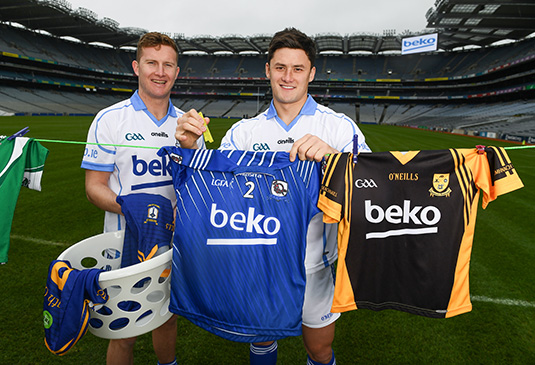 17/05/2018
Leinster GAA has launched the 2018 Beko Club Bua awards, the health check and code of best practice for GAA Clubs in the Province. Sponsored by Beko, the awards aim to promote best practice on and off the field in the 800 clubs across the twelve counties.
The Club Bua Awards seeks to identify and reward excellence and also offer a pathway for other clubs to set themselves realistic targets in order to be recognised for performing to high standards. Year one proved a success with 24 clubs accredited and receiving more than €1,500 worth of O'Neill's equipment each. Using an online application form and checklist on leinstergaa.ie/club-bua/, Leinster GAA clubs are invited to assess themselves against a set of criteria ranging from a number of Award 1 and Award 2 coaches; health awareness, club governance and inclusiveness to name a few.
Shane Kelly, Head of Sales and Marketing, Beko Ireland added: "Beko was thrilled to get involved with Leinster GAA last year and we are really looking forward to year 2 of the 2018 Beko Club Bua awards. The idea of clubs, regardless of size, getting rewarded for best practice is something we wholeheartedly support and look forward to the year ahead."
Bua is the Gaeilge for Win and the Bua awards will result in chosen clubs in each county across Leinster again sharing in a significant prize fund of GAA equipment. By the end of this year more than €85,000 in equipment, footballs and sliotars will have been awarded to clubs in the Province. All clubs who take part will also be entered into a draw to win Beko appliances.
Winning clubs will receive a commemorative plaque for their clubhouse acknowledging them as a Beko Club Bua Award winner. Additional prizes include; a digital banner for a winning club's website, tickets for Leinster championship finals, entry into a draw to win All-Ireland final tickets and a draw to win a place for an Under 8 team at the Leinster GAA GoGames days playing in Croke Park.