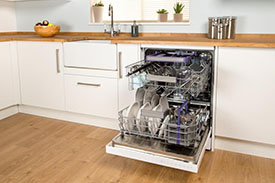 03/03/2016
From juggling lunchbox dilemmas during the week, to cooking up a Sunday roast for the masses at the weekend, family life can sometimes feel as though it requires the ultimate in multitasking…or a magician! Whilst we can't promise magic, we can make your washing up disappear with our new range of dishwashers that are designed to make everyday life that little bit easier.
These new models are packed with the latest technology and state-of-the-art features to help you save time, energy and money. Not only that, they look great too!
We've got some fantastic features across the entire range, but there are two models we'd really like to make some noise about.
Our Dishwasher with EverClean Filter (DFN28321) is definitely the dishwasher for you if your family likes to stack the dishwasher without giving plates a proper rinse. Our EverClean Filter rinses out any leftover food particles from the filter so you don't have to worry about cleaning it so often.
If you're worried about how much water your current dishwasher uses, then why not swap it for our Dishwasher with AquaIntense (DFN28320). It helps you save money on your water bill by using just six litres of water to wash an entire 13 place setting load! In addition it tackles stubborn, sticky food stains head on with our AquaIntense Function that creates a super intensive wash zone. Plates have never been cleaner!
If all that's not convincing enough, you'll love our other new functions and features:
Impress your friends with up to 30% shinier dishes thanks to our new SteamGloss Technology which applies extra heat at the end of the programme, reducing the size of the water droplets to provide more effective drying
To save you time, we've reduced cycle durations by up to 70% with our Fast+ Function so that you won't be hanging around waiting for your wash to finish
The Quick & Clean programme enables you to clean an entire load of dishes in a speedy 58 minutes
A low 43dB noise level will stop any noisy appliances from interrupting family life, perfect for open plan living spaces
That's not all; our design team has ensured that all new models have a quality finish and premium look, including a sleek design panel with white digital display. Even the interior of our dishwashers have been given a first-class makeover. If you want to add large plates or pans to the lower level, the flexible modular basket can be adjusted – even when the machine is fully loaded. We've added an additional cutlery tray and foldable plate and cups supports to make sure you are equipped for all situations.
Dishwashers in the range start at £219 and are available from all major retailers. Browse our collection here and until 14th March we're offering you three months' worth of free Finish tablets to get you started.