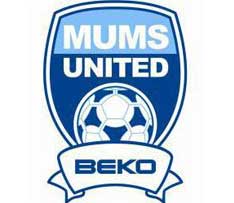 18/10/2011
Kirsty Gallacher launches Beko Mums United
Celebrity mum and Beko Mums United ambassador, Kirsty Gallacher, is backing a nationwide campaign to engage mums in their child's sporting activities, following a nationwide survey of mums that revealed that 68% of mums wanted to get more involved.
The research was carried out to develop Beko's Mums United community facebook page, which also offers handy hints from Kirsty on everything from improving your football knowledge to Halloween costume inspiration and nutrition tips. Join now at www.facebook.com/BekoGB.
Beko Mums United ambassador, Kirsty Gallacher, said: "I meet lots of mums and dads who lack the confidence to get involved with their son or daughter's sporting activity because they feel they don't have sufficient knowledge. Beko Mums United aims to build that confidence by providing some simple but helpful advice. I know first hand the benefits of playing sport as a family and it's something I'm always keen to champion."
"Beko Mums United encourages parents to spend more time with their kids, giving tips about sport and nutrition with a backdrop of grassroots football. If it can help bring families closer together whilst encouraging a healthier, active lifestyle, we believe that's the real winner."
The Beko Mums United campaign was developed off the back of 900 conversations with mums across the country. 90% of mums agree that outdoor sports help their child develop their communication and teambuilding skills. This desire to get involved with their kids through sport played a huge role in the look, feel and content of the facebook page.
Over a fifth of Mums were interested in learning more about football jargon, and over a third were interested in getting ideas on nutritional tips for their children. Beko Mums United wanted to design a campaign that was for mums by mums, giving Mums the opportunity to select the video content down to the background and colours used on the finished design.
As well as providing a community for families to have fun and learn more, Beko Mums United is the place to win great prizes including a new football kit for your child's grassroots football team, a week's place on an Official Soccer School course and up to £500 worth of Beko household appliances.
Beko is the proud sponsor of Official Soccer Schools in association with The Football League. The Football League has recruited 17 clubs so far across The Championship, League One and League Two. Official Soccer Schools encourages children aged between 2 and 18 years old to keep active, improve their football skills and make new friends over term time, half term and the summer holidays.
Kirsty Gallacher and former Premier League manager, Alan Curbishley, attended an exclusive Soccer Schools coaching session at Brentford Football Club with Mount Carmel Primary School. The group of Year Three pupils were given special access to play on the first team pitch to celebrate the launch of Official Soccer Schools sponsored by Beko.
The 17 clubs taking part include Bradford City, Brentford, Bury, Cardiff City, Doncaster Rovers, Hartlepool United, Millwall, Northampton Town, Oldham Athletic, Port Vale, Portsmouth, Rochdale, Stevenage, Swindon Town, Stockport County, Tranmere Rovers and Wycombe Wanderers. Book your place now at www.officialsoccerschools.co.uk. Beko UK and Ireland Marketing Director, Teresa Arbuckle, commented on the announcement: "Beko is proud to be supporting Official Soccer Schools. Our research highlighted that almost 70% of mums are always looking for ideas to keep their children amused during the holidays."
"Beko Mums United offers a great platform to share ideas; helping busy families make the most of their time with their children, enjoy football and a healthy lifestyle. We aim to give them the tips and help to do that, and, in the process, encourage more kids to get into sport".
Visit www.facebook.com/bekomumsunited and click 'Like' to join.