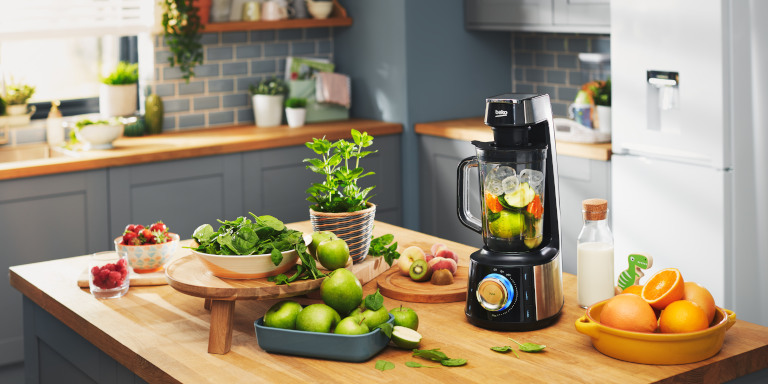 14/03/2019
We're continuing our campaign to help people Eat Like a Pro with the launch of a new, state-of-the-art Beko Vacuum Blender. This innovative product retains more vitamins and nutrients, up to a massive 40% in Vitamin C, than standard blenders and is the latest addition to our diverse and already popular range of small domestic appliances.
The Vacuum Blender's large capacity chamber removes all air before blending, reducing oxidisation. This means that the juice or smoothie you make for yourself and your family boasts a vibrant colour that is Instagram worthy. The blender can process whole fruits, vegetables, nuts and even ice and the results are smooth juices which retain even more enriched Antioxidants[1], Vitamin C[2], Fibre[3] and Vitamin E[4] for longer.
Ever woken up in the morning to find that the smoothie you made the previous evening is unpleasant, lumpy and separated? The Beko Vacuum Blender eliminates this through its new technology, meaning your desired drink is as fresh as the moment you made it.
The Beko Vacuum Blender has a 1000w motor, variable speed settings with pulse, serrated, hardened stainless steel blades which can blend the toughest of seeds, nuts and ice. It also boasts four blending functions: smoothie, ice, sauce as well as handy auto clean which cleans the entire machine at the touch of a button - you can simply blend and go!