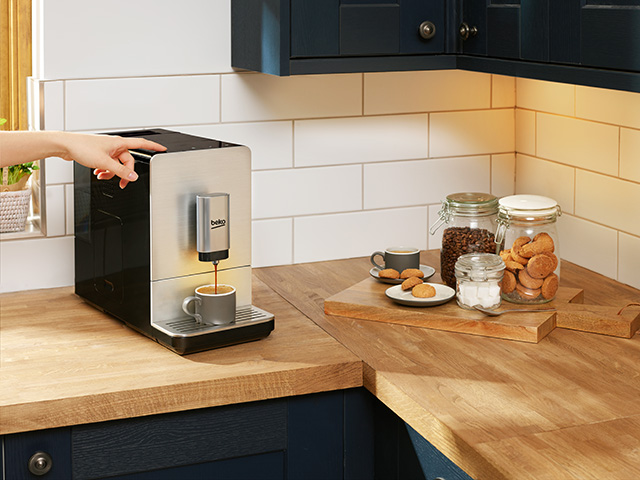 14/03/2019
Give the coffee lover in your life barista style coffee in the comfort of your own home. As 70 million cups of coffee are drunk in the UK every day[1], we have introduced a One Touch Bean-to-Cup Espresso Machine and a One Touch Bean-to-Cup Espresso Machine with Steam Wand. Both of which produce hot, delicious coffee to suit your preference - all at the touch of a button.
Perfect for the espresso drinker, the Which? Best Buy award-winning One Touch Bean-to-Cup Espresso Machine (CEG5301X) boasts a pre-brew function to extract the aromas from the coffee beans and an integrated stainless-steel grinder for fine-tuning the strength of the brew. Praised by Which? for its ability to make a delicious espresso of varying strengths, the range is perfect for a strong brew to kick start the day or a subtle mid-afternoon boost. The LED touch system provides practical and easy usage and also includes a descaling and rinse programme to ensure the machine continues to work at its best. For ultimate ease, there is an automatic cleaning function which flushes water through when the on/off switch is pressed ensuring the brewing system is clean, guaranteeing cup after cup of great tasting quality coffee.
If you're a fan of froth, our One Touch Bean-to-Cup Espresso Machine with Steam Wand (CEG5311X) is the machine for you. The modern black and silver design comprises all the same key features as our Bean-to-Cup Espresso Machine, but with the addition of an easy to use steam nozzle, enabling you to produce and enjoy a perfect cappuccino or a delicious Latte Macchiato on those lazy mornings spent at home.
Our versatile machines are not only sleek, compact and stylish, taking up minimal space, but they can both produce up to 15 coffees with every bean re-fill and can be easily adjusted to fit a taller cup, meaning you'll be an expert barista in no time.
[1] Mintel Coffee UK Report 2016