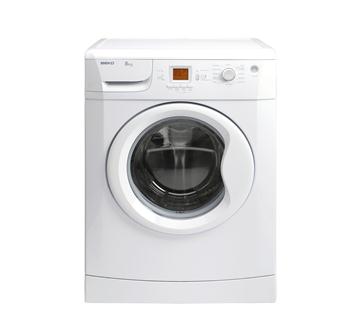 21/01/2010
'World's Quickest Washing Machine at Full Load'
Ever had the sinking feeling that your perfect outfit is in the washing basket with no hope of being clean for that big night out? Or groaned at the thought of staying up late so that the kid's uniforms are ready in the morning?
With the launch of the new Beko Xpress Washing Machine, the quickest machine on the market at full load, the days of being left with nothing to wear or desperately praying for the cycle to finish will soon be a thing of the past. Boasting three impressive timesaving cycles, including the 'Super Short' 14 minute Xpress Programme, this new user-friendly appliance takes all the hassle and drama out of doing the laundry.
The 14 minute Xpress programme '2kg Super Short' is invaluable for washing emergencies when clean clothes are needed fast. Simply place that must-have item in the machine and the Beko Xpress 'Super Short' Cycle will quickly revive and freshen, providing a simple solution to this common dilemma.
The machine offers two further useful time-saving Xpress programmes. The '28 minute Xpress', which can tackle a 8kg load at 30 ºC in just 28 minutes- ideal for clothes that simply need refreshing. Also featured is the '58 minute Xpress' perfect for more grubby clothes in less time-pressured circumstances. This programme allows a 8kg load to run a full 60°C cycle also giving great wash results.
Beko understands that consumers are increasingly concerned with their environmental impact, with individuals looking to protect the environment and reduce their utility bills in the process. The Xpress Washing Machine has low water consumption on a number of wash programmes, which include pre-wash, extra rinse, rinse hold, anti-crease, and quick wash options.
Available in white, the Xpress washing machine has an interactive LCD display with time remaining shown, a brushless motor to reduce noise and is sure to integrate beautifully with the contemporary kitchen, whilst meeting the laundry needs of even the most demanding families.
Available in stores from October, the Xpress Washing Machine has 16 main programmes including special ones for Duvet, Sportswear, Baby & Toddler garments and also includes a Duo Programme which allows for colour-fast synthetics to be mixed with cottons. For greater flexibility the machine also incorporates a programmable time delay function for up to 24 hours to fit in with the busy life of today's consumer.