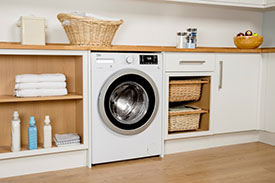 03/03/2016
Nobody likes to arrive home to an overflowing laundry basket. Washing, then drying, followed by putting it all away, is not only a chore to do, it takes precious hours away from your family time. To help make life that little bit easier our new Beko 7kg and 8kg washer dryers enable you to wash and dry your clothes in just an hour.
You can trust that we know what we're talking about because we've sold over 20 million appliances to families across the UK since our launch. We understand that home appliances are there to make your life easier, and so we've packed our new washer dryer range full of innovative and helpful features to ensure you save time and money.
Our specialist programmes help you sift through that laundry pile swiftly, and include:
Wash & Wear lets you wash and dry 1kg of laundry in just 60 minutes
Daily Quick Wash takes 28 minutes to wash a full load
The Super Short programme washes 2kg in an impressive 14 minutes
Even better, all the models in the range come with our new Beko ProSmart Inverter Motor that helps deliver reduced noise levels, lower water consumption and improved energy efficiency to save you money on your utility bills. In addition to this our ProSmart Inverter Motor comes with a 10 year warranty for guaranteed peace of mind.
We know how important your kitchen is to you, so we've also taken care to ensure this new range is super sleek and smart. Thanks to a sleek digital display and indicator lights, it's now even easier to select the programme that you need. The new large 50cm glass doors are ideal for loading bulky items such as bed linen, and silver trims ensure a premium finish.
Washer Dryers in our new range start from £369 and are available to buy at major retailers.